Date posted: September 21, 2018
9/21 – "Mission Bell' – Available Everywhere Now!
*Mission Bell – Available Everywhere Now!
*Full List Of Tour Dates
___________________________
*Mission Bell – Available Everywhere Now!
William's new album Mission Bell is available at last. You can buy/stream Mission Bell at all digital retailers HERE. If you're looking for a physical copy of the album or a t-shirt, you can order one directly from William through his webstore. All CDs and special edition white vinyl come autographed for a limited time, so order your copy today.

William is incredibly excited to share these songs with you. Read what he has to say below:

"Mission Bell is the offspring of not only the ashes of a destroyed album and period of my life, but of the rebirth of desire and purpose to make something which was deeply honest, uncomfortably personal, and wholly passionate. It was made with abandon, without care for anything I've done before or what might come after. It was made at a time when I was at my most vulnerable and raw, and for that reason it is the work I am, to this day, the most proud of. I never wanted to make this record. To be clear I never thought I would have to. But it is the best thing I've ever done.

Mission Bell deals with the eye of the storm of the realization that your life as you understand it, is gone. It is the moment before, during, and immediately after the bottom has fallen out and you awake to find yourself lost, alone, and without hope. It is not without pain, but it is, perhaps paradoxically, rife with joy. I share it with a grateful heart knowing that through suffering comes the possibility of joy."
William is currently on tour in the US, Europe, and Russia supporting the release of Mission Bell. For tickets and more info, go to www.williamfitzsimmons.com/tour.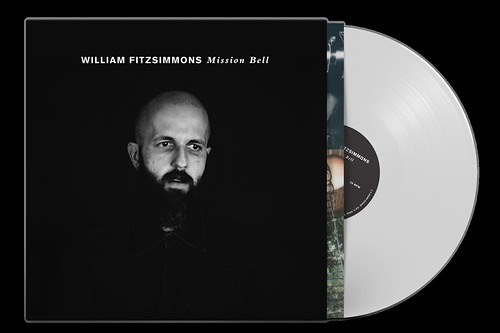 Second Hand Smoke
Distant Lovers
17+Forever
Angela
In The Light
Lovely
Never Really Mine
Leave Her
Wait For Me
Afterlife 
___________________________
*Full List of Tour Dates
US Tour – An Evening With William Fitzsimmons
TONIGHT – New York, NY – Rockwood Stage 2 – Tix
TOMORROW  – Philadelphia, PA – Sona – Tix
9/23 – Vienna, VA – Jammin' Java – Tix
9/24 – Asheville, NC – The Mothlight – Tix
9/25 – Decatur, GA – Eddie's Attic – Tix
Europe Tour 2018 with Joshua Radin
9/30 – Dublin, Ireland – Whelan's – Tix
10/2 – Dresden, Germany – Beatpol – Tix
10/3 – Vienna, Austria – Ottakringer Braurei – Tix
10/4 – Munich, Germany – Technikum – Tix
10/5 – Zurich, Switzerland – Kaufleuten – Tix
10/7 – Lausanne, Switzerland – Les Docks – Tix
10/8 – Stuttgart, Germany – Im Wizemann – Tix
10/9 – Paris, France – Alhambra – Tix
10/11 – London, U.K. – Nell's Jazz and Blues – Tix
10/12 – London, U.K. – Nell's Jazz and Blues – Tix
10/13 – London, U.K. – Nell's Jazz and Blues – Tix
10/14 – Amsterdam, Netherlands – Paradiso – Tix
10/16 – Brussels, Belgium – Botanique-Orangerie – Tix
10/17 – Hamburg, Germany – Mojo Klub – Tix
10/18 – Malmo, Sweden – KB – Tix
10/20 – Stockholm, Sweden – Vasateatern – Tix
10/21 – Oslo, Norway – Parkteateret – Tix
10/22 – Gothenburg, Sweden – Pustervik – Tix
10/24 – Berlin, Germany – Heimathafen – Tix
Russia Tour 2018
10/26 – St. Petersburg, Russia – MOD Club – Tix
10/27 – Moscow, Russia – 16 Tonns – Tix
Be sure to keep an eye out on William's Website, Facebook, Twitter & Instagram for the latest William related news.